Grill Room Furniture Restoration Well Worth The Money
One of the challenges of maintaining a busy, downtown restaurant is keeping our furniture looking new. Filling The Grill Room daily for both lunch and dinner means lots of wear and tear on our wooden chairs and bar stools. We thought the time had come to replace all of them and we knew it would be costly but worth it. Even if we could quickly decide on a new style of chair to buy, we would still have to wait weeks for the order to be delivered but maintaining the appearance of our restaurant is a top priority.
We thought replacement was the best option to assure that our furniture supported the ambiance our guests have come to expect, but then we met Geoff from Furniture Repair Services of Maine and everything changed. Geoff told us about all the services he offered and was confident that he could save us a lot of money by fixing our chairs and barstools to look like new. This repair would spare us from the costly replacement, bringing our furniture back to near its original quality. Most importantly we didn't need to worry about transporting the furniture; he would do the work right in the restaurant! We always strive to support local businesses so we were pleased to hear that Furniture Repair Services of Maine was close by and available to help us immediately.
Geoff has a serious eye for detail, finding even the smallest nicks and scratches and making them invisible. After seeing some promising examples of Geoff's past work we were excited to see what he could do for us.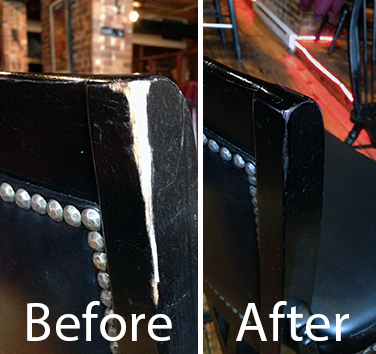 Geoff and his team reupholstered the seats of our chairs and stools with puncture resistant vinyl which looks great and allows our staff to keep the chairs clean without discoloring or damaging them, which is what happened to the previous chairs. The new vinyl looks just like the original leather, matching our chairs flawlessly. The team painted and polished away all signs of wear and tear, making our chairs and stools look brand new again at a fraction of the cost of replacing them.
Geoff and his staff are kind, efficient, and experienced in their craft. Most importantly, Geoff and his team were happy to work around our busy schedule, getting the job done in the morning before we opened for lunch. In what seemed like no time, our furniture had been greatly improved. We couldn't be happier with the service we received from Furniture Repair Services of Maine. They saved us time and money by working quickly and producing a better than expected result, allowing us to kick off our busiest season looking great!
Host An Event Or
Book a Table
Whether you're looking for a great place to have a nice dinner or you want to celebrate an event, we are the perfect place.