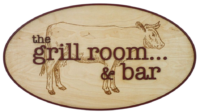 Tuesday & Wednesday
5:00 PM – 9:00 PM
Thursday – Saturday
5:00 PM – 10:00 PM
Happy Hour
4:00 PM – 6:00 PM
Seafood and steak BOTH cooked perfectly. Busy busy restaurant book ahead. Scallops were HUGE.. disappointed there were only 3..for the price 4 would have been better.
Outstanding steaks. Great service, great food , great atmosphere
Excellent food. Wonderfully prepared dishes with a great drink menu.
Mam, all I can say is it's worth EVERY PENNY SPENT!